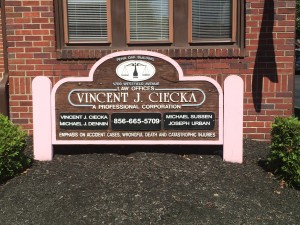 Man's best friend can also be man's most expensive friend.  The Insurance Information Institute's recent data shows that more than 16,000 dog bites were reported to insurance companies in 2012, and an astonishing $489.7 million dollars was paid out in claims, accounting for over one-third of all homeowners liability claims paid in 2012!  Unsurprisingly, insurance companies want to pay as little as possible in claims, so in response to the skyrocketing numbers, many are upping insurance premiums for dog owners, while others are excluding dog bites from policy coverage all together. If your dog bites the wrong person and you find yourself involved in a dog bite lawsuit, will your insurance policy cover you? Michael J. Dennin, Esq. at The Law Offices of Vincent J. Ciecka, P.C. has protected the rights of people in New Jersey and Pennsylvania since 2005.  Located in Pennsauken Township, Camden County, with offices in Philadelphia, the firm provides free reviews of your insurance policies and can give you recommendations regarding your policy and insurer. Pennsauken trial and worker' compensation attorney, Michael Dennin, Esquire has extensive knowledge of the benefits available to you.
What if You are the Victim of a Dog Bite?
Will you be able to recover for your pain and suffering?  What about all of your medical bills? New Jersey, like many states, places what is called "strict liability" upon dog owners, meaning, if your dog bites a human or other animal, you are responsible for the damages. New Jersey Statutes, section 4:19-16 provides that, "the owner of any dog which shall bite a person while such person is on or in a public place, or lawfully on or in a private place, including the property of the owner of the dog, shall be liable for such damages as may be suffered by the person bitten, regardless of the former viciousness of such dog or the owner's knowledge of such viciousness." There are exceptions, however, if the bite victim is trespassing on your property at the time the injury occurs. Pennsylvania dog bite law is more complex than New Jersey law.  It imposes the same "strict liability" for medical bills, and sometimes for other damages, if the injuries resulting from the bite are severe or if the dog has previously injured someone.  Additionally, owners may be held liable if they were in violation of an animal control law, or negligent when the bite occurred.  A group of relevant statues (3 P.S. § 459-501-A through § 459-507-A) along with some notable court cases (Miller v. Hurst, 448 A.2d 614 (1982) and Commonwealth v. Hake, 738 A.2nd 46 (Pa. Commw. Ct. 1999), shape the modern dog bite law in PA. If your dog has been involved in a biting incident, or if you have been the victim of a dog bite contact the Law Offices of Vincent J. Ciecka, P.C. today.  Attorney, Michael J. Dennin, Esq. has protected the rights of people in New Jersey and Pennsylvania since 2005. An accomplished trial lawyer, Michael J. Dennin has successfully obtained significant verdicts and settlements for his clients. To schedule a free initial consultation to discuss your legal concerns, contact us online at www.denninlegal.com, email us at [email protected] or call us at 856-665-5709.